Chamber Travel – Spain + Portugal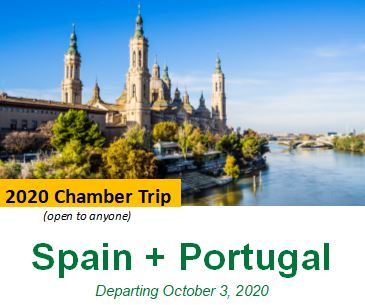 Join us for this bucket-list trip! 
The international trips coordinated by the Chamber have become so popular that now we're offering two trips per year. (Note: you don't have to be a member of the Chamber to join in on the fun).
Our first trip this year is to Australia + Fiji. Our second trip is to Spain with the option to visit Portugal. There is a lot of interest in this trip, so we may have another sell-out.
Spain – One of the World's Top Destinations
Barcelona is one of my favorite cities in the world. (Ok, since you asked…the others are Rio de Janeiro, Brazil (we went there last year), Paris, France (we'll probably go there next year), and Florence, Italy.
Why do I love Barcelona so much? There have been three times in my life that architecture has moved me to tears and Barcelona's Sagrada Familia church is one of them. It's astonishing when simply looking at a BUILDING gives you the chills! I want to share that experience with others.
About this Trip
We are going to spend 4 nights in the magnificent city of Barcelona, which gives us plenty of time to soak it in. The architect of the Sagrada Familia church (Antonio Gaudi) created a number of other buildings in the city, and I'm hoping to see as many as we can. We'll have a number of tours that are included, as well as free time to explore on your own.
After Barcelona, we'll take a high-speed train to Madrid, stopping off to spend the day in a town called Zaragosa. In Madrid, we'll enjoy a tour of the City that includes the Plaza Mayor and the world-famous Prado Museum. We'll also have a day trip to visit Toledo, known as the "City of Three Cultures" because Christians, Muslims and Jews have lived together there for centuries.
Our 9-day trip "Spain" tour is $3499. That includes airfare, taxes, high-speed train, 4-star hotels, breakfast every day, and a flamenco show with dinner. If you can, join us to visit Lisbon, Portugal for another 4 days/3 nights for only $699.
Why Travel with the Chamber
Traveling with the Chamber is a fantastic way to travel internationally with someone you trust. The Chamber and our travel partner agency handle all the details and you get to enjoy group discount rates.  If you're a single traveler who would like a roommate, we're very good at helping pair you up with a new friend. Speaking of new friends, you're guaranteed to make plenty of them on our trip!
Come learn more about this fantastic trip at our no-pressure Travelers Information session on March 12 (details in the ad beside this article).  Or shoot me a note:  President@SalinasChamber.com  Our travelers rave about our trips because the tours are top-notch, the pricing is very competitive and…we build friendships!