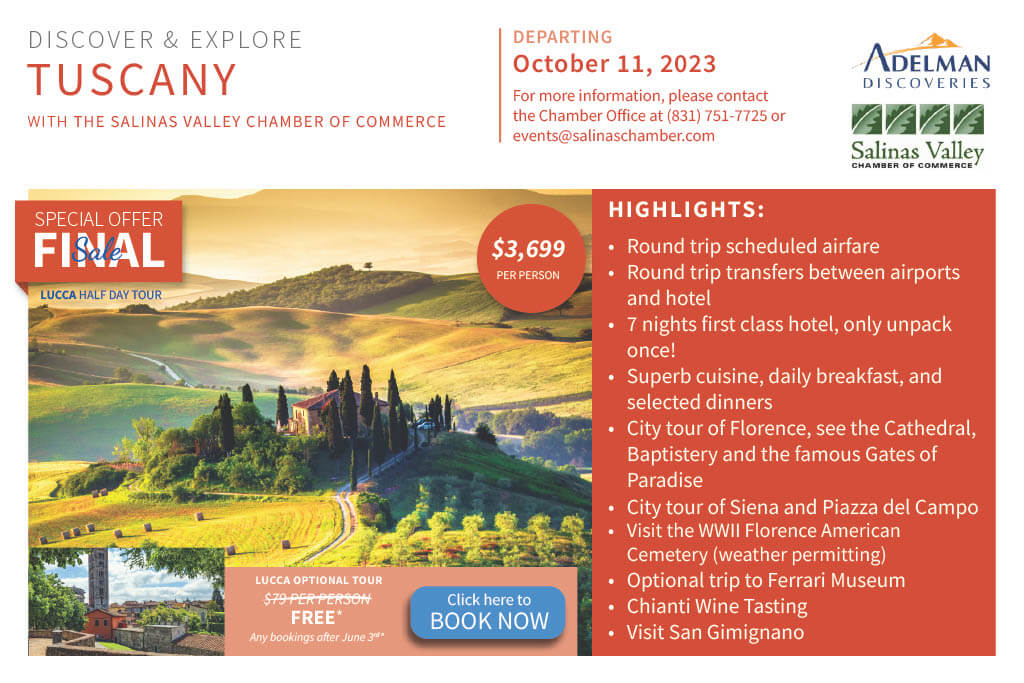 It's time to travel again! The Chamber is delighted to offer a Fall 2023 trip to Tuscany, Italy, this year! Rich in culture and stunning scenery, gorgeous Tuscany is a breathtaking destination! Enjoy a nine-day journey back to the old country, where you will have the opportunity to explore the Tuscan region. One of the most popular tourist destinations in the world, Montecatini, offers the option of relaxing in one of the beautiful spas which make this resort town famous.
For anyone looking for a trip that embraces Italian culture through a wine tasting, sightseeing, superb cuisine, and more, this trip is for you!
"Document Party" Tuesday, September 12, 4:00 PM - 6:00 PM (in-person at Chamber or by Zoom)
The document party covers the final travel documents folks will receive (final travel documents are available 30 days before departure). We will go over flight schedules, daily itinerary, weather, electricity, and what to bring and NOT bring.  After going over the documents and schedules, we will have time for questions and answers.
Click below for the brochures, reservation, informational meetings, and Chamber travel Interest Forms!