Help make a child's holiday experience brighter!
The Children's Shopping Tour has become a treasured event in the Salinas community. Many Shopping Tour recipients have told us how important and meaningful the event was for them as children, and for many, the experience was powerful enough that as adults they wanted to help continue the event that offers so much charity to those who need it. This impact is why hundreds of volunteers return year after year to offer that same gift again and again to their community.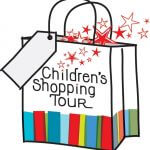 Join us this winter as we take children shopping for school clothes.
Please donate and/or volunteer to take a child shopping or to help with registration at the event.  We appreciate your help (and so do the kids!).
To VOLUNTEER, Please CLICK HERE. 
To DONATE, Please CLICK HERE
If you have any questions or would like to join our mailing list to learn about other special events related to the Children's Shopping Tour, please email us.